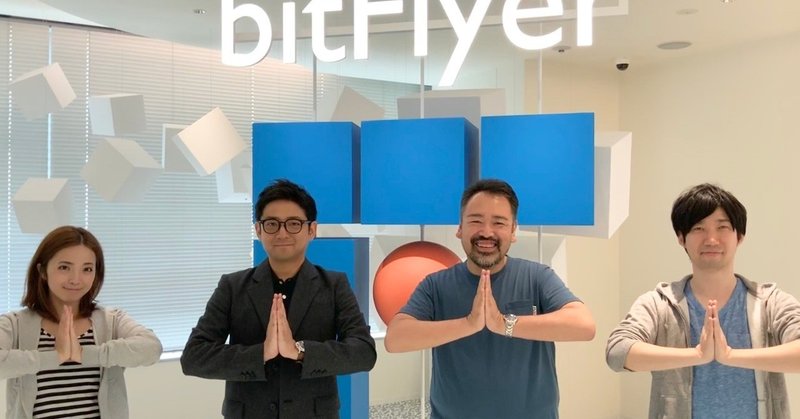 Make the world simpler by Blockchain
This is the English translation of the communication from May 24th.
-----------------------------------------------------------------------------------
As of today, I will step down as a director of bitFlyer Holdings, Inc. to focus on the new blockchain business and to become the CEO of our new subsidiary, bitFlyer Blockchain, Inc.
I am fascinated by the Bitcoin that Satoshi created, and I am truly happy to have worked with all of you on regulation debates and industry development since the dawn of Japan's virtual currency (cryptographic asset) industry. In the future, I would like to continue to work hard and receive guidance from everyone involved to create a market that utilizes blockchain technology.
First of all, I would like to express my sincere gratitude to all of the customers of bitFlyer. It is thanks to our customers that we became the world's No. 1 cryptocurrency exchange, including leverage trading. bitFlyer is the world's only exchange licensed in Japan, the United States, and Europe. I hope that customers from the US and Europe will continue trading with bitFlyer in the future.
I would also like to take this opportunity to express my gratitude to all of the employees. Maintaining the robust security needed to safeguard the cryptocurrency deposited by customers is not something that can be accomplished easily with just a cold wallet.
The operation of a never-before seen, continuously running, 24/7 cloud-based exchange was made possible by the accumulation of extraordinary efforts by our employees. We responded to the sudden announcements of hard-forks, the identity verification where we can't make any mistakes, late-night and early-morning emergency support, governance preparedness, and the huge quantity of documents accompanying increased functionality of AML/CFT. The accounting and finance teams that struggled with auditors in the absence of accounting standards. The management and sales that developed numerous services that were the newest in Japan. The second and third-line defense departments of risk and compliance, internal audits, internal controls, and IT controls that are vital to governance. The endless curiosity and insight of talented engineers who have implemented many new businesses. The foreign management and employees, who, after starting out at this one small company in Japan, acquired the licenses to expand out into the world. bitFlyer would not exist as it is today without the exceptional passion of Mr. Kogame and Ms. Kanemitsu, who left amazing careers to participate in bitFlyer that had nothing shortly after its founding. It was a fateful beginning that I met Mr. Komiyama, an engineer with unparalleled abilities at Goldman Sachs. I believe that the daily efforts of the bitFlyer employees have been rewarded with the endorsement of many customers who use virtual currency.
Since encountering Bitcoin and blockchain in 2010, my conviction remained that this technology can revolutionize the world. It is not coincident that new currencies and new databases have been born simultaneously. The spread of the internet in the 90's made it possible to copy, distribute, and obtain any information at an extremely low cost. I will never forget my excitement when using the NCSA Mosaic browser in the early days and saw how individuals could easily transmit information to the world for the first time.
Additionally, the currency can never be reproduced. It is a uniquely incompatible object to be converted into digital data through the internet. Under these circumstances, blockchains, which are databases that use a feature called immutability that makes it impossible to reproduce data, can absolutely guarantee that data is not replicated. A non-replicable currency was put into operation in 2009 in a public system with an unlimited number of participants, rather than an exclusive system created by a specific company. It is also called a decentralized system.
On the Internet, which was considered to be valuable for being able to replicate, the Blockchain technology has emerged with objects can never be replicated. We use this concept to bring massive revolutionary change in society. The Blockchain technology will give the same surprise and excitement as we experienced in the 90s with internet technology. It's not only in finance, it will also impact to our daily life.
Now bitFlyer, which I founded with Mr. Komiyama, our CTO, in January of 2014, has made significant growth with about 260 employees over 5 years. At the time of the company's founding, Mt. Gox owned approximately 80% of the world's share. Mr. Komiyama and I wanted to create a virtual currency exchange that could surpass Mt. Gox in both safety and convenience, so we worked tirelessly to write programs at a bakery in Yotsuya. However, the amount of Bitcoin in circulation within the country was very low at the time, and we believed that an exchange system to match customer's orders could not ensure liquidity, so we discarded the program we had we had written and changed to a service where our company would take risks to partner with customers, calling it a market place. Afterwards, we prioritized procuring Bitcoin from overseas to create liquidity in Japan.
Next, we built chainFlyer because we felt it was necessary to make transparent the internal structure for people to understand what a blockchain was. I believe that chainFlyer allowed for people to truly get a sense of virtual currency for what it is instead of some dry numbers displayed on a black console screen. Then, we released a payment service and bitFlyer Lightning as an exchange geared for professionals. At the time of our company's founding when we were a small study group with only 5 customers, I couldn't have imagined that we would be able to produce the first TV commercial about virtual currency in Japan.
Until now, I have been involved in organizing almost all of the services and marketing of bitFlyer. Also, I have watched over bitFlyer and it has realized its goals thanks to the work of many employees. The back-end system, which was made from scratch, is now a massive management system. As an entrepreneur, I was told to think to the point of having my brain bleed, so amid pressure to constantly have to produce something new, I continued to think about new ideas from the time I woke up to the time I went to sleep, and sometimes into my dreams. As a result, we have been praised for the work on the network and in user support. Even while receiving harsh criticism, I am constantly thinking about how to better serve our customers, making it impossible to escape a fear of decision-making.
I have worked in the industry in places other than bitFlyer as well.
Believing that once our bootstrapped mechanism was complete, we should next create voluntary restraints in the industry, I helped establish JADA (now Japan Blockchain Association) with sympathizers, and acted as representative director. I continued to persuade some clients and those in the industry, known as early adopters, to understand the importance of regulations, to prevent bad money driving out the good, or there being a tragedy for individuals.
Until June 2017, the purchase of virtual currency was taxed as consumption tax, so I explained the importance of tax exemptions to many of those involved with this. The amendment to the Enforcement Order of the Consumption Tax Law meant we were able to secure international convenience and a competitive advantage in Japan.
Afterwards, as a director of JVCEA, the accredited self-regulating organization, I endeavored to establish voluntary restraints, discussing the appropriate amount of time with many of those concerned. The Payment Services Act is expected to be amended again this year, and more client protection and new fundraising means areas such as ICO and STO are expected to be included. I believe many clients wish for an amendment to the tax law on capital gains. Since Japan is the first country in the world to create these rules, I believe that the virtual currency industry is a domain in which we can lead the rest of the world.
Last year, we received a business improvement order, and I felt an incredible responsibility for this. I would like to deeply apologize once again for causing trouble for so many of you. bitFlyer needs to be reborn as a public financial institution. We have great expectations for the future; improved exchange governance, with client asset protection as an overriding concern, we will endeavor to become one with our employees under the leadership of Mr. Hirako and Mr. Mine with regards to issues on AML/CFT and FATF support, we will create a support system upon which our clients can rely, enhance security, and carry out safe and stable exchange operations.
Finally, I am hugely grateful to all the shareholders for believing in my vision and investing, and the extent of their evaluation, due to which the bitFlyer Group has recorded revenues of 14 billion JPY from establishment to our fifth fiscal year, an operating profit of 5.3 billion JPY, and retained earnings of 11.8 billion JPY. From now on, we must implement global governance as a reliable financial institution. If we lose our start-up spirit, bitFlyer will end without achieving its goal of becoming the next-generation financial institution. I am pushing forward to achieve bitFlyer's mission, along with the employees who have given their careers and stability to help achieve this.
I myself still wish to create a bright future for Japan through innovation. "How will Blockchain change society, and what issues will it solve?" The only way to answer this is to deliver services to society. bitFlyer is accelerating towards achieving our mission of "Make the world simpler by blockchain", with the group management and employees becoming one under a new system. Once again, I would like to sincerely thank everyone for your incredible support.


この記事が気に入ったら、サポートをしてみませんか?
気軽にクリエイターの支援と、記事のオススメができます!